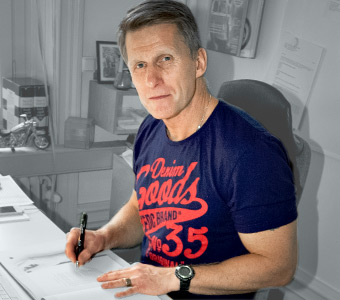 Working for a perfect picture
There are two sides to Mods Graphic Studio; one is high-end retouching, and the other is delivering print-ready solutions for complex, large-scale campaigns. The solutions that Mods provides take a marketing campaign from start to finish, working with the customer, artists, photographers, designers and local printers and suppliers to create the perfect product.
Previous investment in a flexible technical solution means that Mods possesses a platform that enables the delivery of complex campaigns and ensures that errors are eradicated at every step of the process – a vital ingredient for campaigns that have no borders or seasons, span every time zone and have print runs in the millions.
We work meticulously from start to finish to ensure we deliver perfect, error-free, print-ready PDFs. Our focus is on getting things right in preproduction, so that nothing can go wrong at the printers or in digital publication.
On top of the technical solution, Mods delivers expertise in imaging to be able to produce beautiful images that can be used for anything from postcards to extra-large size print, and from smartphone screens to the electronic billboard without multiple production cycles.
Mods customers are large multinationals, primarily in the fashion and automotive industries. These companies rely heavily on their brand integrity and place highly stringent demands on their suppliers in terms of quality and processes.
Over many years spent working within these industries, Mods has built up a unique insight into the complex nature of its customers' world, and it prides itself on working closely with them to find the right solution from concept to delivery. This often includes managing sub-suppliers and helping them meet tough demands. One of the keys to our success is our long-term customer relationships.
As the need for print slowly declines, there is a perception that there is a corresponding downturn in the demand for good quality images and well-designed marketing campaigns. In fact, the opposite is the case.
The number of publishing channels that companies are using is actually growing, and there is a greater need today to produce marketing campaigns that stick than there was even just a couple of years ago.
This industry is special and can be very stressful; to succeed in it you need to have employees that enjoy working in this type of environment.
2014
Mods had a good year in 2014. It was a year in which we put the finishing touches to our updated technical processes and renewed our servers, so that our production flow is as efficient as it can be – we are at the edge of what can be done.
Our main customers have also had a very good year with some product launches and financial results that were better than expected. This is obviously good for us, as it means they have room to be more creative.
As marketing campaigns become more global and managed centrally at the customer, the seasonal aspect of the fashion and automobile industries is disappearing. Campaigns are constantly being launched in different parts of the world. At the same time as we produce summer campaigns for the southern hemisphere, we are creating winter campaigns for the northern part of the globe.
For us, this means we have to keep an eye on incoming orders around the clock.
Internal development has been key to keeping our ideas and ways of working fresh and innovative. This industry has changed enormously over the past 15 years, and we need to maintain our competitive advantage.

2015
Making the digital material that we keep for our customers available is becoming increasingly important in order to make life simpler for the customer. Increasingly niched market channels require their own specific adaptation of the material, and lead times for adaptations will be shorter. By using systems, we can adapt the material so that the customer can retrieve their customized material quickly and efficiently.
The year will also provide challenges in terms of security and accessibility. With systems open towards the Internet comes a responsibility of keeping systems protected from unauthorized access, yet accessible. Last year saw several publicized breaches and system crashes.